The CIA in Harken
From Day One …
It was common knowledge that the ownership of Harken had connections to the GHW Bush-era CIA, and that Harken had VIP access to the GHW Bush presidency. At the time, my roommate, Schwa,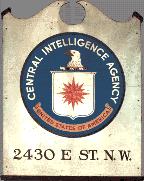 bought Harken stock, as did many others, solely due to the business value of its political assets, and the fact that its utter lack of any other assets made its stockprice really low.
Harken had been formed in 1973 and set its sights on exploration rights in Austrailia's oil-bearing regions. This seemed prescient because, at the time, Austrailia was trying to dislodge foreign control of its oil production. Unacceptable! Luckily, forces within Austrailia who supported foreign control of its oil overcame the protectionist faction and Harken found itself perfectly positioned to grab a share of the newly opened opportunities.
By the way, I hope you're clued in enough at this point to have realized that when I said "forces within Austrailia" I meant the CIA. Duh! Austrailia's left-wing Labour Government foolishly tried to restrain American oil interests, so the CIA launched a covert operation to destabilize it. This jaw-dropping assault on a friendly, stable democratics government was the product of Richard Nixon and Henry Kissinger who's legacy is primarily world misery and American shame.
The source of this, yet another "preposterous blame-America conspiracy theory" is an official investigation done by the Austrailian government. When the president of the Nugat Hand Bank of Austrialia turned up murdered, the investigation ended up revealing Nugat Hand Bank as a CIA front used to launder the money funding covert operations in the Pacific Rim. The money trail led to the people who had worked against the Labour government and uncovered some of the dirty tricks they'd used.
This revelation might have tarnished America's image as a proponent of freedom and democracy, but it wasn't possible to damage that image any further than the revelations of the Watergate story already had.